Okay, so maybe I'm getting a little carried away with making baby dresses.. but they're SO cute! Here is one I made after work on Friday for Ella, my friend Jacqui's little girl. Of course you don't have to do too much when you start with gorgeous fabric! I got this apple print from
Spool
.
oh and this? why it's the most fabulous sandwich I've ever made!
I call it The Reckless...
delicious bread from Against The Grain in Chestertown, MD
pork loin grilled in cider and a touch of maple syrup
spinach and thinly sliced granny smith apples
goat cheese and dried cranberries
topped off with a touch of Annie's balsamic dressing
Don't forget!
I'm still looking for guest bloggers! If you have an interesting project, recipe, or story to share
email me
. There are six spots left! Michele from
Stories at my Fingertips
got us off to a great start with her fabulous tutorial on diy wall art... be sure to
check it out
! What's in it for you?
A lovely little Barely Measured goodie bag :)
You'll also get to show off with this nifty badge!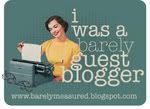 I know, I know, I spoil you...